WAREHOUSING &
DISTRIBUTION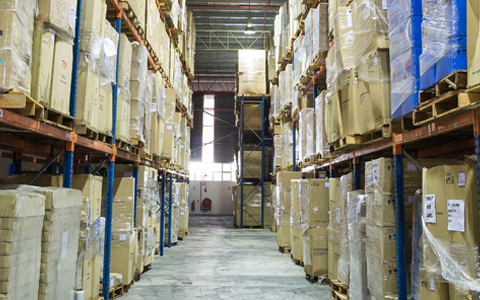 and Professionalism
We offer warehousing and distribution services to meet the storage needs of our customers and to enhance supply chain efficiency. The range of our warehousing and distribution services includes the following:
General storage
Inventory management services
Cargo consolidation for distribution purpose
In addition, we also provide other value added services which include the following:
Picking
Selecting and collecting cargo from the warehouse in a specified quantity based on customer's order
Packing / unitising
Packaging cargo based on customer's order
Labelling
Attaching label on the cargo to indicate its owner, origin and destination
Palletising
Storing or moving cargo by using pallet
Our warehousing and distribution operations are fully integrated with our land transport operations. Currently, our Group provides warehousing facilities at 2 locations, namely Skudai, Johor Darul Takzim and Johor Bahru, Johor Darul Takzim with a total covered warehouse space of approximately 244,600 sq. ft. In addition, we operate with 4 trucks for pick-up and delivery service to facilitate our warehousing and distribution operations.
Our warehouses are equipped with handling equipment such as cargo lift, forklift, pallet jack, weighing machine, wrapping machine and dock leveller. We have the capability to handle all kinds of products including, amongst others, fast-moving consumer goods, raw materials for the food and beverage industry and finished goods. Further, our warehouses are guarded 24 hours daily and all inbound and outbound movements are checked by our warehouse security team.